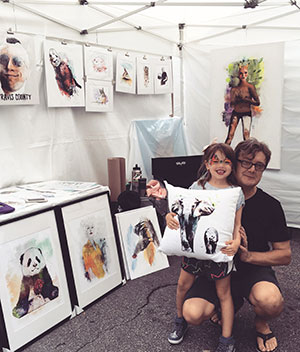 1 and 4 Studio is artist/illustrator Don Friesen.

He's an artist who was making a living as a web designer and his wife was a photographer working mostly as a producer in New York when they met. They soon started to realize their skills could complement each other on different levels and in varied creative projects. When their daughter arrived they decided to move to Austin to raise her and simplify their lives.

Don briefly studied fashion design in college and worked as a costume design assistant before moving into a career in the graphic arts and web design. Inspired by fashion illustration, the human form, and street art, he started pursuing more illustration and art projects.

He enjoys experimenting and mixing other mediums into his art which include charcoal, pastels, acrylics, and inks. Adding punches of colors and textures that are often created digitally and then printed to use in collage. He searches for ways to visualize the current state of affairs into something thought-provoking and beautiful. While some works involve social critique, in an effort to not just be restricted to serious subjects he likes making whimsical zoo animals as well.


Upcoming shows
*Cancelled Art Santa Fe – July 2021 – Santa Fe, NM

Past shows
Flip'N Art Collective Gallery – 2018 – 2020 – Austin
East Austin Studio Tour – Nov 2018 – Austin
Bayou City Art Festival – Oct 2018 – Austin
Pecan Street Festival – Sept 2018 – Austin
West Austin Studio Tour – May 2018 – Austin
Austin Pancakes + Booze Fest – Nov 2017 – Austin
1 and 4 Studio, Austin,Tx